So, you've designed your own coaching program. You've got the basic content (videos and exercise worksheets) that you need to run your program online. You also have a list of 5-15 people who are ready to sign up.
What's next?
How the heck do you bring your coaching skills, your content and your participants together online and make it all work?
Well, here's what I did…
Chose an Awesome Online Coaching Platform
Delivered Excellent Coaching Content Each Week
Added in Plenty of Bonuses at Different Phases (keeps people engaged and titillated)
Get Paid!
The results were phenomenal for me, for my clients and for my business!
In this article, I share my approach with you in hope that you may get some good ideas for your own future online coaching programs. I've fleshed out each step below…
Choose an Awesome Online Coaching Platform
The first thing you need is a way to securely deliver your content to your participants online. There are several systems out there for delivering content online, but if you want something that is super easy to use and that has been specifically designed for coaches, then you may want to check out Life Coach Office (LCO).
Life Coach Office is what I use and I love it. But I must warn you that I am biased: I designed it and I think it totally rocks!
Online Coaching Porgrams in 15 Minutes with Life Coach Office

If you follow the 5 steps below, you can have a coaching program with 5-15 people ready to go in about 15 min or less.

Step 1
Go here and subscribe to Life Coach Office (only $13 per month).

Step 2
Once you're in, go to the "My Account" section. You'll probably want to upload your logo, pick your background color, set your timezone and add in your Paypal address (so you can get paid!).

Step 3
Once you've done that, and while you're still in "My Account", go to the Groups section and set up a New Group. Just give it a name and press save!

Step 4
Then go into the "Clients" section and add your clients into the system. You can add them into the Group you just created by ticking a little box.

Step 5
Finally, go back into the "My Account" section and send out a Mass Email to your Group telling them they can log in and the group will kick off on Monday!

An Easy and Fun Way to Manage Your Online Coaching Programs
Register for Life Coach Office Here

Get a here.

Anyway, once you've chosen your platform, you are ready to get going and to start publishing your content.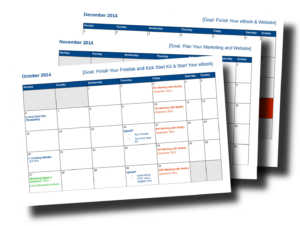 Publish New Content Each Week
Each Monday, upload a Video (I usually just do a single PowerPoint slide with me talking – Yes, you can keep it quick and simple!). Include a down-loadable Exercise (e.g. Word document) that relates to to the video.
Participants watch the video, download the exercise, fill it in and upload it into their Online Coaching Folder, or email it back to you.
At the end of each week, I review the Exercises my participants have completed. Add in my comments and upload a new version into their Online Coaching Folder. I also email it to them as well.
It's that simple – repeat this same process each week until you get through your full Program of material.
Voilà, you've got an Online Coaching Program!
BUT, you can take it even further…
Add in Plenty of Bonuses at Different Phases
There are plenty of bonuses or bits you can add on to your program to make it even more mind-blowingly awesome and life changing. If you are running a long-term group (3 months or more), adding in new communication mediums really helps to keep people engaged and titillated. It just breaks up the routine and keeps people excited, like…"Wow, what's she gong to surprise me with next?!"
Here are some ideas:
Build in an accountability framework from day one (set the days and times that you review material, assign everyone an accountabiliy buddy).
Add in monthly one-on-one skype coaching call(s) with you.
Set up a Private Facebook Group for participants to share links and ideas with eachother. I like FB because, the majority of my clients tend to be active on FB everyday, so I'm leveraging their existing communication preferences.
Introduce a group call so each member can hear, first hand, the challenges and successes other members are having.
Upload free surprises like worksheets and workbooks (they did not expect to get) which adds even more value to their results.
Get Paid!
The easiest way to get paid for your online coaching group is to simply set up a Paypal account and take it from there. Of course, if you are a Life Coach Office member, it seamlessly integrates with your Paypal account too!
Time to Get Your Programs Online!
If you follow these ideas, you'll find that results are phenomenal. With a bit of planning and the right tools, you too can create dynamic, fun, highly productive online coaching programs that you can run with individual clients as well as groups!
If you want more motivation and inspiration to get your own online coaching program up and running, check out this artilce, Why Every Coach Should Offer Online Coaching Programs. Enjoy!
The following two tabs change content below.
Benay creates expert tools and systems for coaches wanting to supercharge their business. She runs her business totally online while traveling the world with her family (husband, toddler and 2 dogs). She's been coaching professionally since 2006, has a Diploma in Life Coaching, is an NLP Practitioner and has an extensive background in business analysis and high-end, IT system development.