Hooray! You have created your digital products eBooks, Worksheets, Videos, etc) and are all ready to sell to your clients and create passive income. Bring on the money!
But wait… How do you set that up so it is truly passive and you can just sell your ebooks, workbooks, and worksheets without having to do anything to facilitate it?
This is where Easy Digital Downloads comes in. I have been using this amazing plugin for YEEEAARRSSS – no they did not pay me to write this, though I am an affiliate because I love it so much and recommend it to everyone!

*Note this is for WordPress websites only, if you need assistance with another type of website, please feel free to comment and ask for help.
Easy Digital Downloads (EDD) is a plugin that helps you sell your virtual and downloadable products through your website. You simply install and set up the plugin, add your product files into your WordPress website media library, create the products in the plugin and add the product short-code to a page on your website.
EDD utilizes Stripe, Paypal, Apple Pay, and Google Pay as payment gateways so it's so easy for your customers to purchase your products easily.
Now let's get on with the How To!
Step One – Login and Upload your Products into Your Media Library
Login to Dashboard of your website
On the Left side menu, go to Media Library > Add New
Make sure that your products are in the following file formats and saved on your computer:

Images: png, .gif, .jpg
Documents: .doc, .xls, .ppt, .pdf
Audio: .wav, .mp3, .mp4
Video: .mpg, .mov, .wmv

You can drag and drop your files from your computer into the 'Add Media' window of your website dashboard, or click on the 'Select Files' button and choose the file from your computer.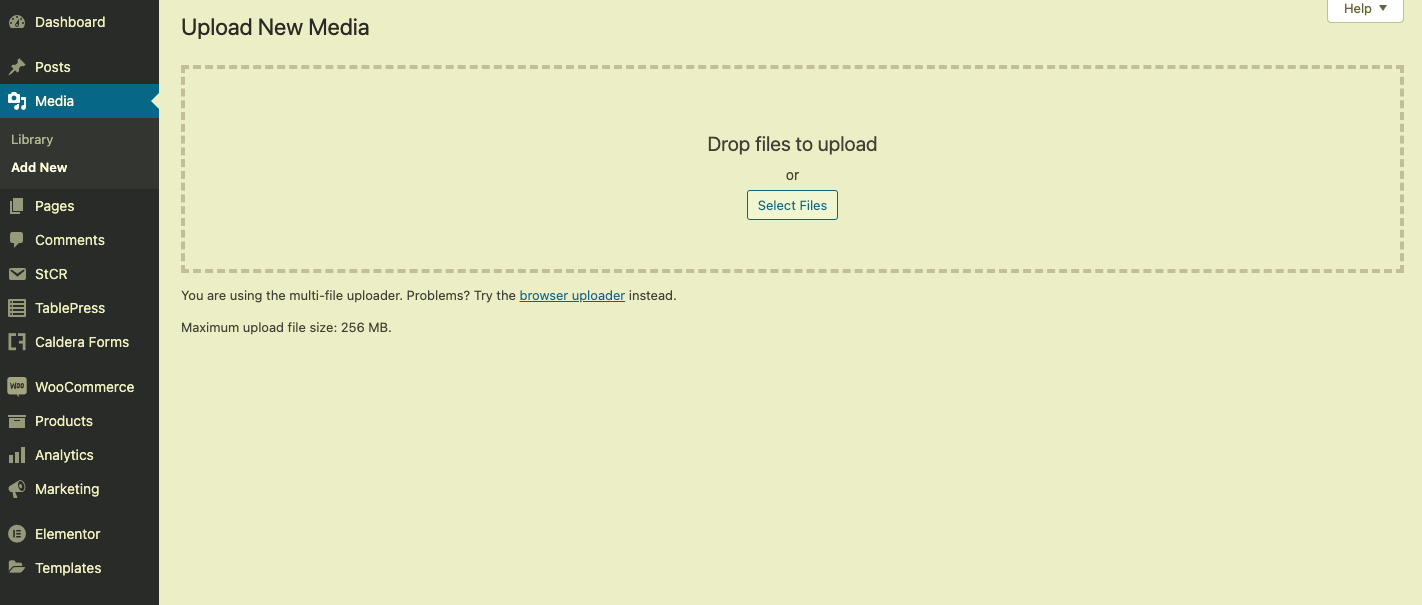 Step Two – Install Easy Digital Downloads Plugin
There are two ways to upload the plugin you need for this:
Download the plugin and upload it manually to your website

Add Plugin directly through Plugin area

Go into Dashboard> Plugins in the back end of your WordPress website
Click Add New
In the search field, type 'Easy Digital Downloads'
Click Search plugins
Select this plugin: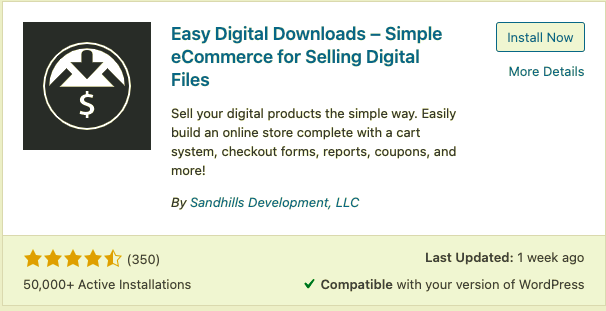 Click Install Now
Click Activate
Step 3 – Set Up the EDD Plugin
You should now see 'Downloads' in your website dashboard, hover over it. Click on 'Settings'.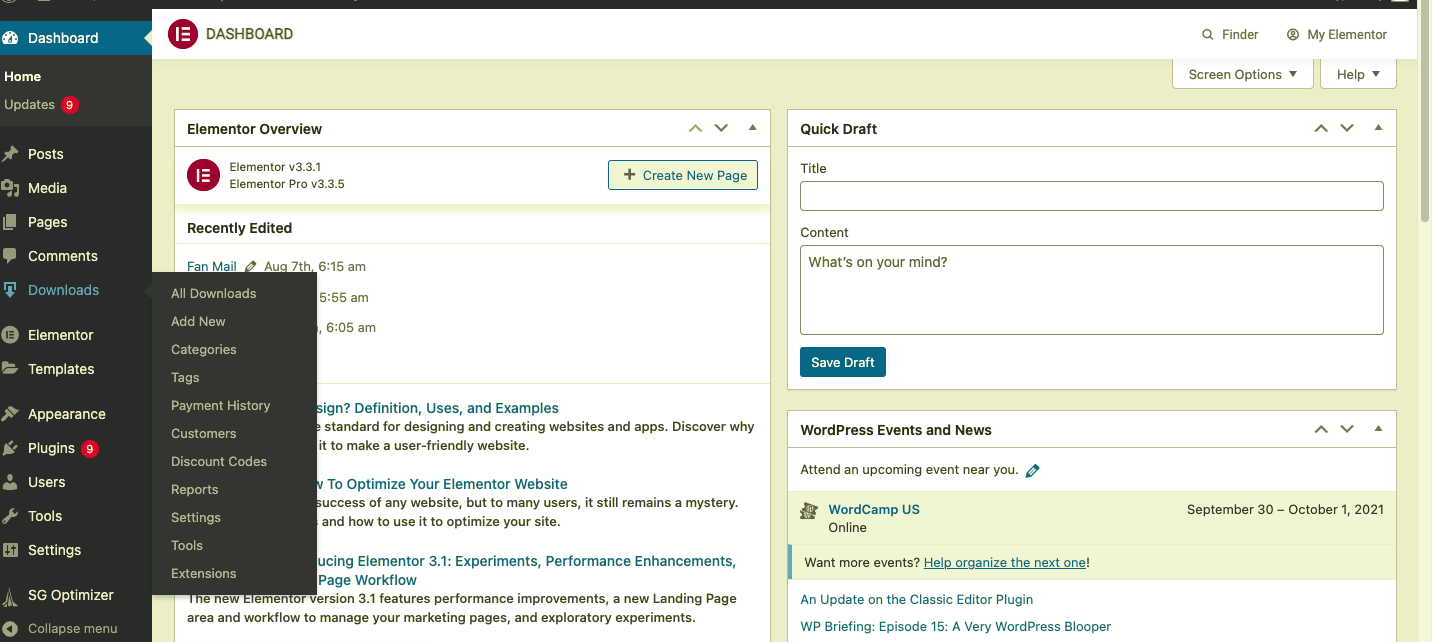 You will be in the 'General' settings tab. – Change the location in this section to where your business is. Make sure to click on 'Save Changes' when you are done after all of these setting changes.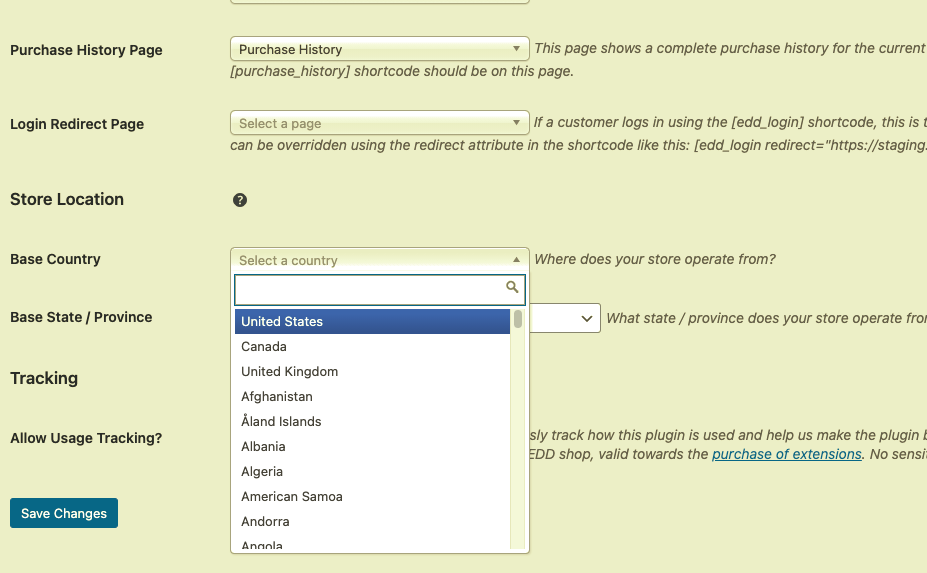 Go back to the top of the webpage and click on 'Currency'. Change this if you will be using a currency besides US Dollars. Make sure to click the 'Save Changes' button if you do change anything.

Next click on the ' Payment Gateways' tab at the top of the page. This is where you will set up what payment options you will accept. For more in depth information about the payment gateways, read this article from EDD or this one. Don't forget to save your changes!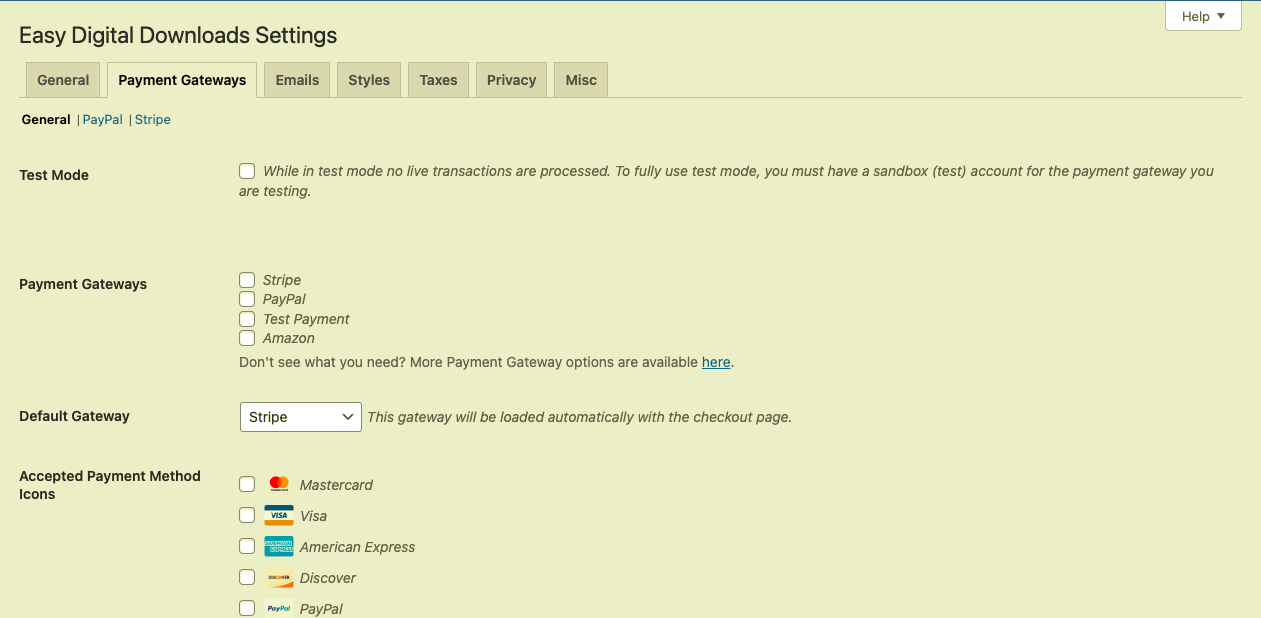 Then click on the 'Emails' tab on the top of the page, you will see a submenu, with General | Purchase Receipts | New Sale Notifications on it.
Under 'General' add your logo, 'From Name', and your 'From Email'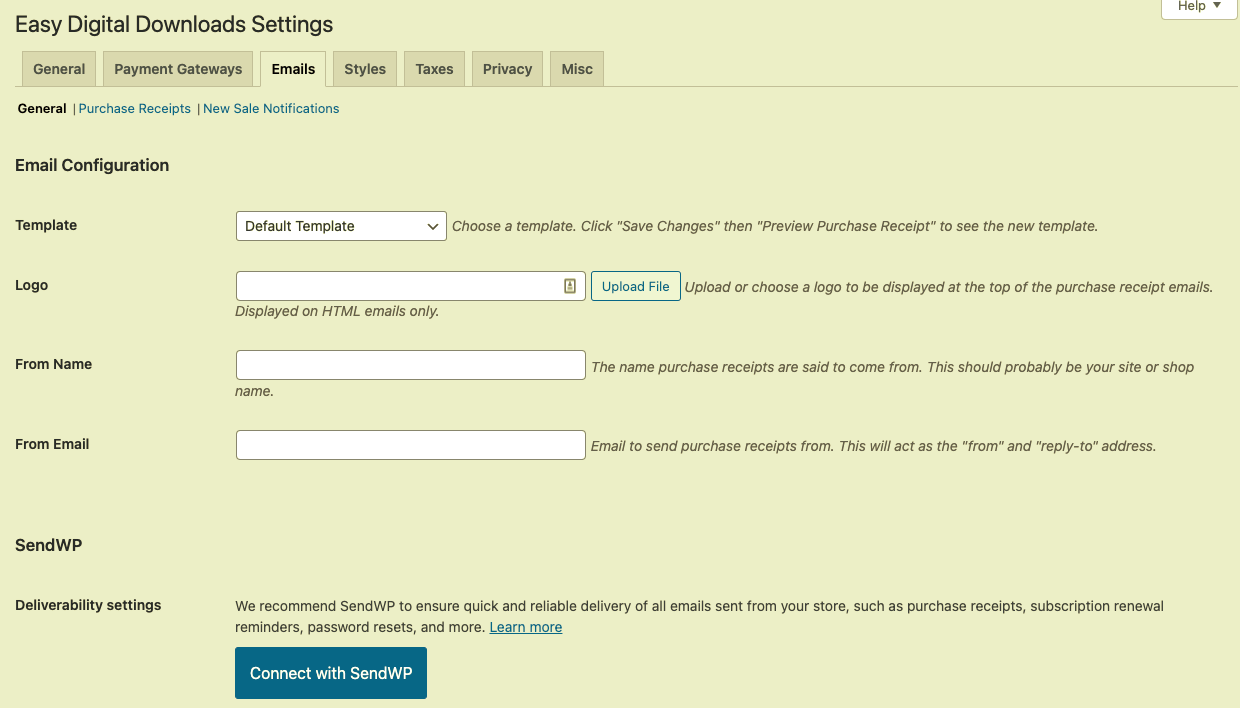 Under 'Purchase Receipt' fill out all the areas. This will be the email that your customer gets confirming their purchase and giving them the links to download their purchases. On the bottom of the page is a list of codes that you can add to your letter with the information and download links for their purchase -see example of email here: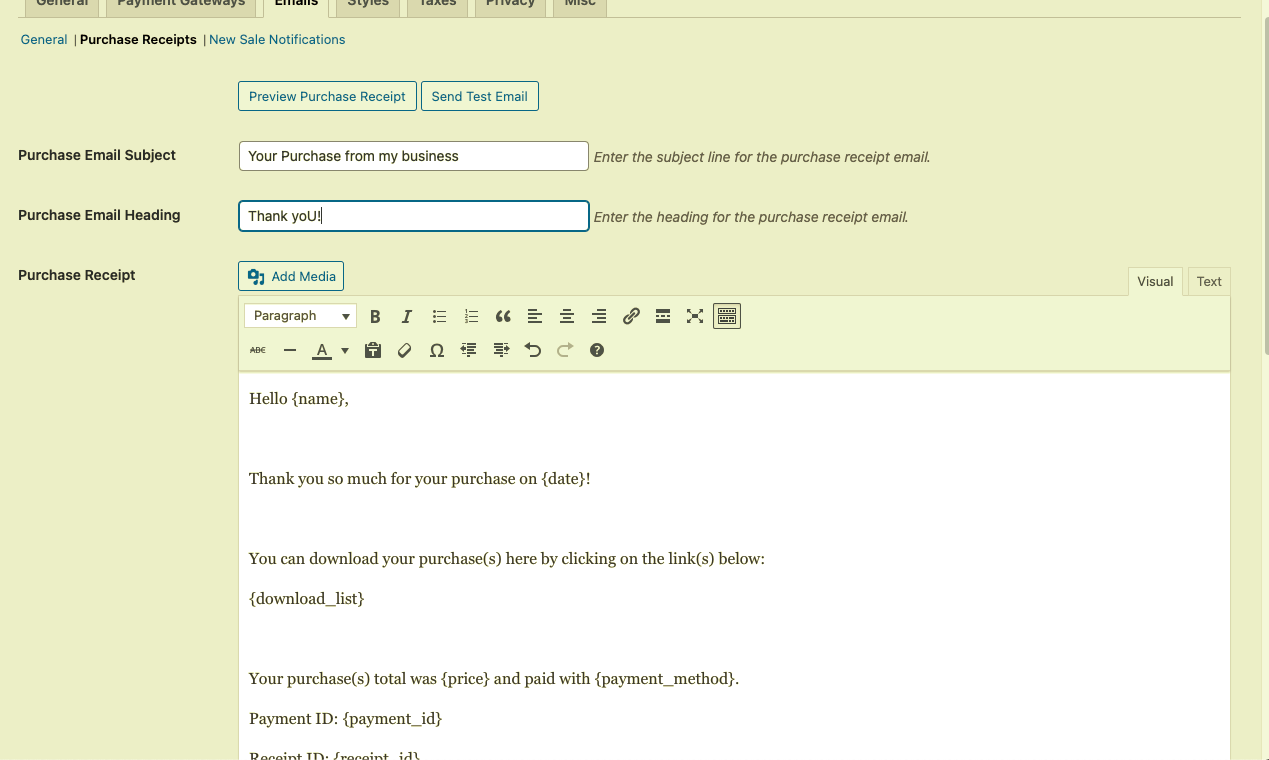 Under 'New Sale Notifications', this will be the email that you get whenever you make a sale (this is optional – you can skip it if you do not wish to receive an email with every sale). You fill the areas out just as you did with the purchase receipts but with the information that you want to know when a purchase is made. Use the short-codes on the bottom of the page to set it up as you like.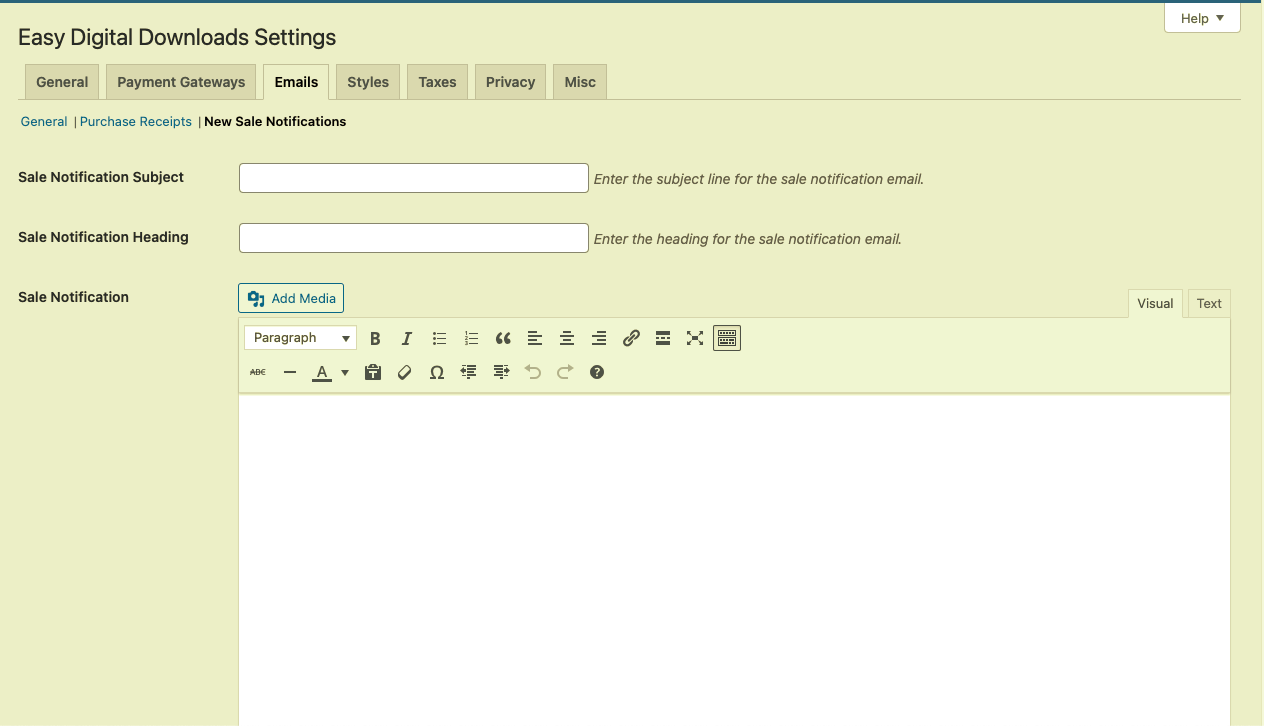 Your EDD is now set to go… oh… unless you need to enable… dun dun dun… taxes…
If you are required to collect taxes make sure to click on the 'Taxes' tab add what is needed and click on 'Save Changes'
Whew, you made it! Now let's create a product!
You are so close to being done! Good on you! You made it!
Step 4: Create a product in EDD
In the essence of keeping this from boring you to tears, I will show you how to create a basic product, but if you want other settings and options check out this EDD article.
Under 'Downloads' on the left dashboard menu, click on 'Add New'
Add the title, description, price for your product.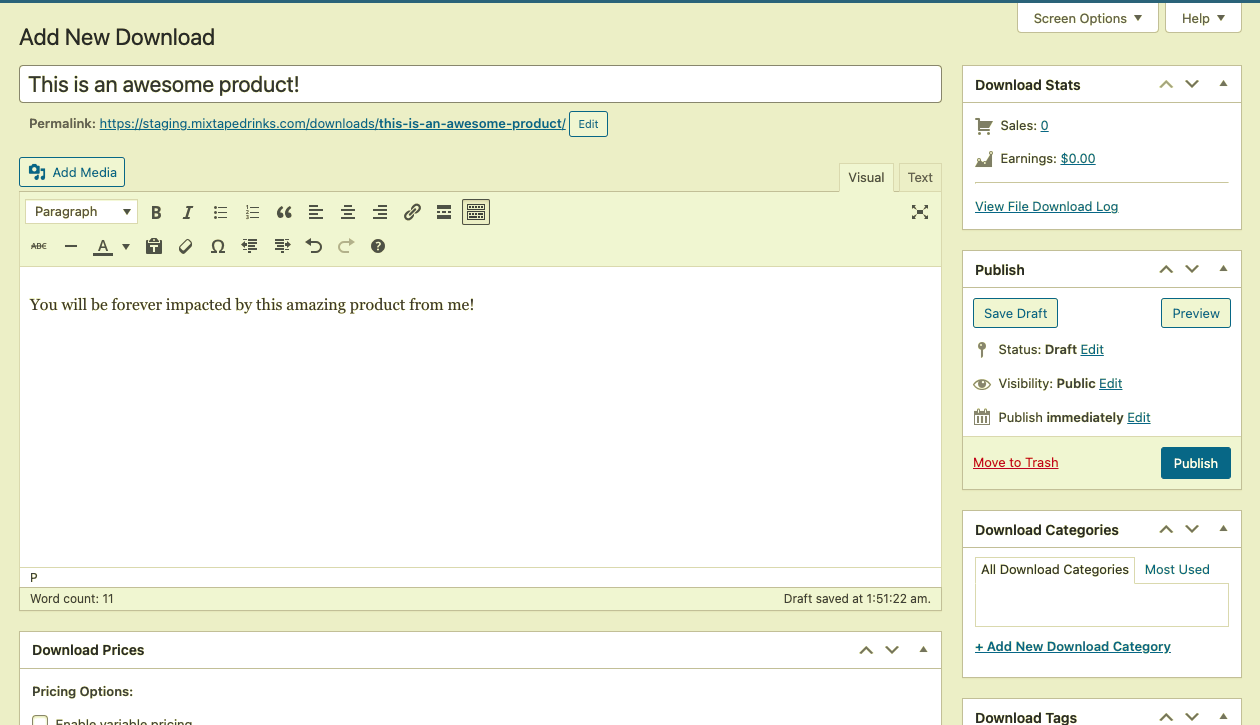 Further down the page, Find the box marked 'Download Files' and click on 'Upload a File'.
This will take you to the media library where your product is waiting for you! (If you don't see it immediately there, you can search for the name of your file).
Click on the file you want to upload and press 'Insert into download' button on the bottom right corner.
Make sure to add your product image from the media library using the box on the bottom right under 'Download Image'
Click on the 'Set Download Image' and choose the image you wish to use either from your media library or computer files.
Scroll back up to the top of the page and locate the 'Publish' button on the right hand side.
You have now published your first product!
Before leaving that product page, scroll down the page and find the 'Purchase Shortcode'
Copy that code and add it to any page on your website and it will show the title, description, price and button to purchase.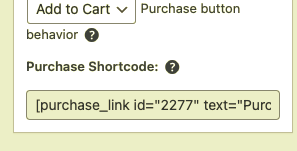 You are ready to start making passive income with your coaching products now! Just keep adding whatever products you create and EDD will do all the work for you to get them to the purchaser!
Despite the length of this article, it only takes about 20-30 minutes to get this all set up and ready to go. You can do this!
If you do need any help or have any comments, please leave them below!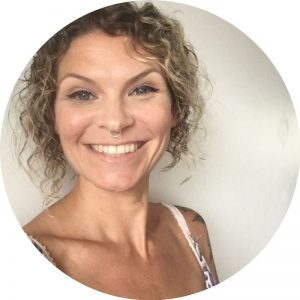 Jennifer Mitchell has been a WordPress website designer and developer for coaches for the past 7 years. She is also co-founder and technical and logistics manager for The Coach Guardian. Jen loves to share her knowledge in all aspects of building an online presence with coaches.