Massage Therapist Turned Life Coach: Stephanie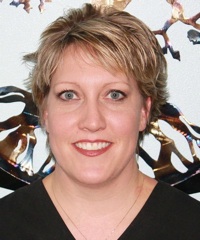 I get a whole lot of questions from people who initially want to do some life coaching (or some version of coaching) on the side while they keep their current job.
Well, Stephanie has done just that! Although she has been coaching to an extent for years in her massage therapy business, she has just recently decided to take her coaching to a whole new level by completing her coach training and officially adding coaching to her product and services list.
I thought you might get a kick out of her story.
Benay: How long have you been coaching?
Stephanie: I have only just begun my licensed coaching career this month (May 2012) but have been coaching on a smaller level as a Licensed Massage Therapist for the past 7 years (since 2005).
Benay: Where are you based?
Stephanie: I am based out of McMinnville, Oregon but plan to travel after I have established a web-based and telephonic presence.
Benay: What did you do before you were a coach?
Stephanie: I have had an eclectic work experience over my lifetime. I have worked in multiple styles of customer service and retail business, horse training and grooming, rodeo and trucking industry. I found my passion with people when I went to school for massage therapy in 2004 after my son was born. I opened my own multi-therapist practice in 2010 and am excited to expand my practice to wellness and life strategy coaching.
Benay: What is your niche/specialty and how did you discover your niche?
Stephanie: My niche is a holistic or "whole person" approach of what I like to call the "Trifecta" – mind, body, spirit balancing. As a medical massage therapist for the past 7 years my treatment focus has never been relaxation but as improvement of quality of life from pain and injury. My frustration began when my clients would plateau and sometimes regress in their symptoms and I was limited by my scope of practice to trouble shoot their problem areas.
I began my own journey on the body/mind/spirit connection and was fascinated and blown away at the possibilities as well as frustrated and confused by all the lies I had even fallen for through media propaganda. I had my "aha" moment when I had a serious injury to my hand that could have ended in amputation, but didn't because of my work and progress on the "trifecta" of my own life. Thus leading to my coaching certification and desire to help those who want to see true long lasting change in their lives towards living a more fulfilled life and a path of living in a higher conscious.
Benay: What coaching training did you do?
Stephanie: After extensive research, I chose The Spencer Institute for my training. I found it very helpful and will continue on with more certifications in the future as my need for expansion grows.
Benay: What's the toughest part about starting a new coaching business?
Stephanie: Wow, we'll I'd have to say letting my current clients know that I will be transitioning. Most are happy for me but it is a double edged sword as they are worried about who they will find to replace me as a their massage therapist.
A close second is deciding what my target market is, who I want to coach. Just like when I decided what my massage specialty and focus was going to be, I have to be clear on who will best benefit from my coaching style.
To overcome this, I have taken several different types of coaching sessions now with a variety of coaches to get a feel for how they coach and how they tackle their target markets. I've used that as my starting point and went through a few exercises to come up with my business model, which is being finalized as we speak. I hope to have my website updated by the end of next week to reflect the coaching opportunity available to perspective clientele.
Benay: How many days a week do you work in your coaching business?
Stephanie: Currently, I am splitting my time between massage and coaching, I am flexible with my coaching calendar, where as my massage calendar is more rigid. Coaching requires more behind the scene work that I do at my leisure between coaching sessions. I spend approximately 10 hours a week coaching currently, but intend on exiting my massage practice by the end of 2012 and go into full time coaching.
Benay: Do you have any other income streams besides coaching?
Stephanie: Yes, I do have other income. I still work as a massage therapist and my husband works as well. I also have a small income for teaching continuing Ed for massage therapy.
Benay: What have you found to be the most effective ways to get new clients?
Stephanie: As with massage, referrals from existing clients, friends or family is the best way, but having a website and multiple ways of contact is important. My other advice is TALK! Talk to everyone about what you do, you'll know who is interested and who is not. Hand out your cards to those people and even get their contact info and follow up. They may not need you today, but in the future possibly or they will know someone who is in need and ready, they pass their info onto them.
Benay: What resources would recommend to other coaches?
Stephanie: My advice is watch documentaries and then go to their references. There are many on nutrition and disease that are great science based material with studies done that are sponsor free. As a coach, references are the most important tools we have for accurate information to provide our clients. If we have false knowledge, tainted information, out of date or not thorough we can and probably will do more harm than good.
I'd also suggest that coaches seek out local business in your area to refer clients to for items that are not your strong suits, like nutritionists or physical trainers. Have a plethora of professionals up your sleeve as references and referrals.
Benay: Any final words of wisdom?
Stephanie: Love what you do, do what you love and quit when you don't love it any more!
Benay: How can people get in touch with you?
Stephanie: I can be reached via the contact us page on the Advanced BodyWork and Massage website.
---
Have a Story to Tell?
If you are a new or experienced life coach with a solid niche and a story that you would like to tell, I'd love to hear from you. Please tell us your niche and what you did before you started coaching in the comments section below.
Hit the ground running with these 5 Simple Tools