14 Coaching Product Ideas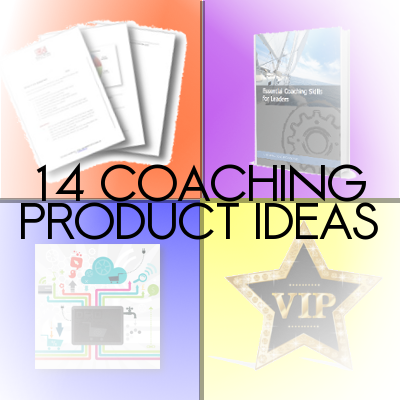 Are You the Coach for Me?
There are thousands of coaches out there, with more and more coming online every day.
So, what makes you different? Why should a client choose you over another coach?
To survive and thrive as a coach today, customers need to easily understand what you are all about and have enough access to what you do to make good decisions about further investing in you as a coach or not.
Niche + Products = Expert
To do this you really need to have a clear, specific niche complimented by a suite of aligned products. The different price points make you more easily accessible to your audience.
There are 4 main levels of products in a coaching business. And, ideally, you should offer at least one product from each level (level-4 being debatable!).
14 Coaching Product Ideas
Have a look through the following list and see which products you already offer and which you could create to take your business to the next level.
Freebies
(free products)
Free Templates
Free eCourse (emails only or video)
Free weekly tips
Free eBook
Free Quiz
Free Report or Whitepaper
Paid Information Products
(100% passive income)
Kick Start Kit – small kit to get someone moving forward with a problem in your niche
eBook/eBook series
Self Study Program – series of audio or video lessons people can access in their own time
Coaching Workbook/Journal
Leveraged Coaching
(high returns on time invested, reusable assets, live or online)
Training or Coaching Program – done with a group of clients at the same time – members can interact as much or as little as you want
Mastermind Group – facilitated meetings with a group of people who are each trying to achieve similar outcomes in a specific area
One-on-one Coaching
(trading your time for money – not creating assets)
Should be self-explanatory 😉
Bring it All Together and…
Offering a great freebie backed up by affordable entry level information products gives your prospective clients the opportunity to get to know you in a safe and comfortable way. It also paves the way for eventual investment in one of your high end coaching programs and time with you.
When you start looking at your coaching this way, you may start to see tens if not hundreds of ways, other than one-on-one coaching, that you can make a fine living as a coach.
So, what's your next product going to be?!
Hit the ground running with these 5 Simple Tools