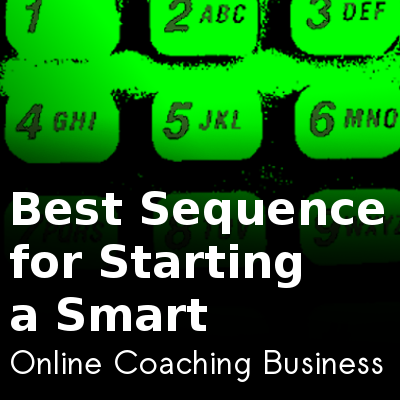 Best Sequence for Starting a Smart Online Coaching Business
Analogy
Let's say you want to call someone. You dial the correct numbers but they are in the wrong order. What happens?
Even though you have the right digits, the sequencing is incorrect. So, the call does not go through.
This analogy (given recently in a great interview with Tony Robbins and Tim Ferriss) shows us, the order you do things in is important!
The Order Matters
The order you do things in when getting your coaching business online makes a big difference too!
The right steps in the wrong order will slow you down or may even make you decide to give up on your business too soon. But the right steps in the right order speed to you toward a coaching business that is fulfilling and successful (whatever that word means to you!).
Every 6-months I teach what I've found to be the best sequence for starting a smart online coaching business. But since I only take a few coaches for each intake (in Feb and Sept), and I really want to help as many coaches as possible, I figured I'd share the sequence with you so you can get started on the right path, right now.
In my experience, here is the best sequence for starting a smart online coaching business…
Step 1: Establish Strong Foundations
Big Picture: What's the point?
Without solid foundations, you have nothing.
As coaches, we know that personal values and vision are one of the first steps, when it comes to helping our own coaching clients. But we often overlook it when it comes to ourselves.
So, I invite you to take some time out to consider what your coaching business really does for you personally. Learn more about the difference between a personal vision statement for your career/business life area v.s. a business vision statement here.
Questions to ask yourself:
What are my most sacred values and how does my coaching business align with these? Any misalignment
What does my coaching business currently give me? What's missing?
What does my dream life look, sound, and feel like and how does my coaching business help me manifest this?
Who do you help?
Once you are clear on what your coaching business gives you, it's time to get totally clear on your niche and your ideal customer.
Questions to ask yourself:
Who do I love helping the most? Get as specific as you possibly can. Describe: attitude, needs, personality profile (if you use one), gender, stage in their development etc.
What problems (that clients know they have and are willing to pay to fix) do I love to help people solve and I'm naturally good at?
By honing in…
Your coaching product offering can go from being vague (like lots of other coaches out there) to specific, original, and stand out.
You instantly become more expert because you narrow and deepen your focus.
You also save money on marking your business because instead of marketing broadly to everyone, you target a specific type of customer only. Marketing becomes easier and for those of you who are suffering, it no longer feels sleazy. You see the value you have to offer.
Step 2: Create Your Product Roadmap
Now that you've got a niche and your ideal customer in mind, it's time to outline a 6-month to 1-year coaching program for your coaching business. The main reason to do this at such an early stage is really for you to prove to yourself that you have what it takes to do it! There is nothing that drives your motivation and confidence more than having months of coaching content – that delivers real, tangible results – up your sleeve.
Once you've finished outlining your program, its easy to decide which products you should create and sell online. There are 4 levels of products for you to choose from.
I recommend having level 1 products (to gain followers) and level 2 products (to earn passive income) at the minimum. You can always add more products at any of the product levels as your coaching business grows.
Step 3: Launch Your Website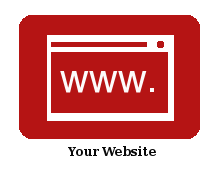 Setting up your website has it's own special sequencing. For the steps check out my article on the 9 Essential Technologies for Your Online Coaching Business – start with technology #1, add on #2, then #3, then #4 and so on!
Just one step at a time in the right order and what seems complex becomes easy and very doable!
Essential website content:
Here is the minimum content I'd recommended you have on your website when you launch.
A freebie that people download in exchange for joining your email list.
About page with a picture of you. This page must express the best parts of the real you!
A few articles (also known as 'blog posts'). Choose articles that cover core content that your audience really needs to understand. Use your program outline (from Step 2 above) for topic ideas then write the abridged version. Make sure your articles are helpful and compelling as they are each an example of your skill and generosity.
Step 4: Start Marketing
So, your website is up and running, now what?
Promote your freebie!
You can do this by promoting your freebie on your business cards and mentioning it in all of your public speaking engagements. My favourite promotion option is through paid advertising. It does not take much of your time and you reach a global market.
And, yes, it's good to pay to get people on your list and build a valued, trusting relationship with your list over time. When your products are ready, you can email your list and make sales from day one.
It is true that the bigger and more targeted your list is, the more you sell.
Step 5: Add Paid Product
In the background of getting your website ready, hopefully you've been chipping away at your first product. Maybe it's an ebook (get some tips on writing your ebook here), a simple little kit (like my Coaching Tool Kit) or an full program (like Coach Kick Start).
It does not matter what it is or how much it costs. Get it done and add it to your website.
The first morning you wake up and see that you made money coaching while you sleep, you'll be hooked!
Step 6: Add Another Product
Add another info product or an online coaching program. Keep adding products until you feel that you have a good mix for your audience (see Step 1). What you should aim for is at least one affordable entry level product, working your way up to a high-end exclusive VIP coaching program.
I'd stay away from selling vague, one-on-one coaching sessions (e.g. one client for 3 – 12 sessions). Instead focus on getting 5-10 people on at the same time to work through your program (see Step 2). Charge $99-$300 per month and pack heaps of tangible value in to the program. When you do this you'll have a predictable income from your business and a focus that will make you a better coach!
My Best Advice
In closing, my biggest advice to you is this…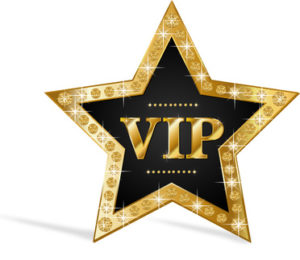 You don't start a coaching business for the money – you do it to have a fulfilling life. Once you figure that part out, money comes naturally.
Move your business forward in some way every day (except weekends and holidays – because breaks are important).
Let go of needing to do it 'right' according to someone else's standards. Turn off all the noise and external influences that make you feel fearful about your ability to build your dream coaching business. You can do this! YOUR way IS the right way! Find your way and trust yourself.
I'd love to know what additional steps or advice would you like to add into the mix? Please add them into the comments box below.
Hit the ground running with these 5 Simple Tools