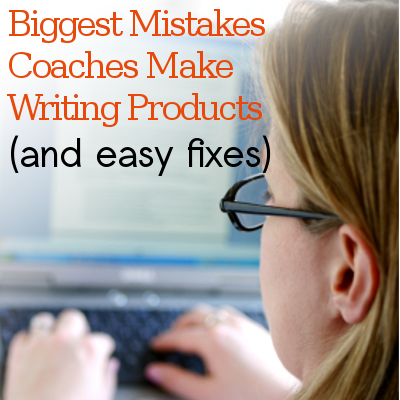 Biggest Mistakes Coaches Make Writing Products (and easy fixes)
Backstory
If you've been following my site for a while, you'll know that I develop all sorts of coaching products that I share with other coaches and I've also been blogging for several years. It's a great fit for my skills, expertise and passions. I love what I do!
What you may or may not know, is that in the last two years I've also been reviewing other coaches products and giving them advice on how to make them better. I work with awesome coaches from all sorts of niches (including: Real Estate Coaches, Leadership Coaches, Retirement Coaches, Christian Coaches, Business Coaches, Personal Trainers, Wellness Coaches, etc.). It's been the perfect, next step for me and my business.
One of the biggest surprises for me has been the number of times I repeat the same feedback to my clients, specifically on their information products (i.e. eBooks, worksheets, kits, and workbooks). In my first review, my advice is rarely about the complex, philosophical, nuances of different coaching approaches, structure, exercise design, and how to write better as a teacher (my expertise). The most blaring areas for improvement come from really simple stuff which is easy to fix…at least, once you know what to look out for.
BINGO!
When I notice a trend like this with my clients, I know that other coaches out there are probably experiencing the same things. That means… it's time to write an article!
Are you suffering from these mistakes too?
Here is my list of Biggest Mistakes Coaches Make when Writing Info Products (and easy fixes)…
Mistake #1: Don't Use Styles
When you are creating a product that is anything more than a few pages long, be sure to take advantage of 'styles' within your word processing tool.
Styles are things like, Heading 1, Heading 2, Heading 3, body text, or paragraph text. Each style type has it's own formatting settings e.g. color, font, size, space above and below, etc..
Be sure to mark each bit of your text with a defined 'style type'. This will:
Enforce a consistent use of visual styling throughout your document to help your reader mentally group text into a logical hierarchy for improved readability and understanding of the message.
Make editing easier and quicker for you. For example, when you use styles, you can update the formatting of all text within the defined 'style type' in one go!
Enable you to easily generate a table of contents within the product which is an essential part of any product with many sections/chapters.
So, save yourself heaps of time in your Product Development phases by using 'styles' in Word. And if you STILL don't get what I'm talking about, check out this handy pictorial guide.
Mistake #2: Don't Use Sub-headings, Short Paragraphs, and Bullet Points
Improve readability/scanability even more by using sub-headings, short paragraphs and bullet points. Break up big, intimidating blocks of text into easily digestible, bite size chunks. You'll probably find that the overall 'flow' of your writing improves as well!
In your products sub-headings can be as simple as:
Introduction
Purpose
How to use this
Helpful tips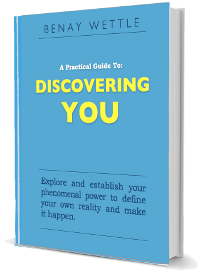 Mistake #3. Don't Use Covers and Imagery
A picture really does speak 1000 words!
Covers
Take the time to create eye catching covers for your work or pay someone to do it for you. It's worth the time/money you invest and it's fast and easy.
I created this (right) in WORD! Alternatively, you can get great deals for cover designs on Fiverr.com.
Imagery
Also, remember to complement your writing with images. Imagery spices up the design and gives the reader another sensory input.
Ask yourself, how can I make this easy and affordable?
Check out free, Creative Commons sites like Photopin.com or paid photo sites like istockphoto.com, shutterstock.com and dreamstime.com. Alternatively, make your own graphs in power-point or take a screen shot of something you've created in Word!
Mistake #4. Don't Use White Space
Embrace space.
Use space to improve readability.
Don't squish 10 mind blowing ideas into one page.
Give your concepts the room they deserve.
Give your reader a visual break between big ideas.
Allow concepts to sink in.
Mistake #5. Don't Ask Coaching Questions
Imagine you've just written a lengthy chapter, in your new eBook, teaching the four most important concepts needed to achieve X…
Chances are good that each concept I your chapter is going to totally blow your readers mind (remember how your mind was blown the first time you discovered these things?!).
Give your reader an opportunity to reflect! At the end of each concept, ask a few awesome coaching questions. Be sure to use all of your training here – throw in Milton language, use presuppositions, etc.. Have fun with it. Challenge yourself as a coach to come up with the most awesome coaching questions possible!
Here are some ideas:
Briefly describe a time when this has happened to you in the past and how it made you feel.
Imagine a time in the future when you can use this tool, what is different now?
What 3 insights have you gained from this concept?
What will you do differently now as a result of having read this?
Want to help your client move forward? Want to help her find her own answers? Want to help her move from passive reader to actively engaged?
Well, awesome coaching questions do just that!
Mistake #6. Start and Don't Finish
Sometimes the coach/writer chooses to get so overwhelmed with fear that he starts his product but never finishes. It's usually, a very natural fear like a fear of being seen, fear of rejection, fear of not being good enough, fear of success.
The thing is, we are all scared sometimes. The coaches who end up launching their own information products just have better strategies for managing their fear (here are some of mine: Self Talk, 4- Levels or Being, and Comfort Zones).
So stock up on your fear management tools! Then, get your product done and get it online!
Get Writing the Right Way
I truly believe that every single coach out there has a unique and special message to share. No other coach out there is you (has your background, experiences, training, values, vision, passions, moral code). If you are in this for the long haul, you need to write – warts and all.
Writing and publishing your work is how you get better. If you look at my first articles, workshops and books…shew – they suck! But I've pigheadedly stuck with it and my reward is that I just keep getting better.
Having said all that, if you are writing or are just about to get stared, please at a minimum, just do the opposite of the biggest mistakes I see most coaches making and I guarantee you'll be ahead of the pack!
Join the Conversation!
What do you find the most difficult aspect of writing information products? And what tips would you give to others?
😉
Hit the ground running with these 5 Simple Tools